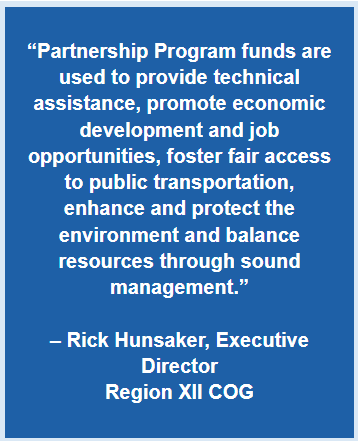 The Partnership Program is an opportunity for private, non-government businesses and organizations to become a part of the COG's mission to provide various needed services to area cities and counties.
For most of Region XII's history, professional services have been supported through a basic per-capita fee paid by member counties, and other various state, federal, and local government sources. The Partnership Program philosophy is that all groups making up a community, including non-government entities like local businesses, are essential to promoting, advancing, and developing the community.
An investment in the Partnership Program gives Region XII additional resources needed to continue our ability to provide high quality services to our communities, therefore increasing opportunities for them to thrive and grow.
2023 Partnership Program
PLATINUM MEMBERSHIP – $2,000
Monogram Quality Foods, Denison
GOLD MEMBERSHIP – $1,000
Availa Bank, Carroll
Dakota Business Finance, Carroll
SILVER MEMBERSHIP – $500
Bank Iowa, Denison
Bauer Built Manufacturing, Paton
Greene County Medical Center, Jefferson
Guthrie County REC, Guthrie Center
Holmes Murphy & Associates, Waukee
Home State Bank, Jefferson
Iowa Corn Processors, Glidden
Iowa State Bank, Sac City
Landmands Bank, a division of Crawford County Bank, Audubon
Mid-Iowa Insurance & Real Estate, Carroll
Raccoon Valley Electric Cooperative, Glidden
United Bank of Iowa, Carroll
West Central Iowa Rural Water Association, Manning
Western Iowa Power Cooperative, Denison
BRONZE MEMBERSHIP – $250
Agri Drain Corporation, Adair
American Home Shield, Carroll
Audubon County Economic Development, Audubon
Audubon County Memorial Hospital & Clinics, Audubon
Audubon State Bank, Audubon
Badding Construction, Carroll
Bruner, Bruner, Reinhart, & Morton, Carroll
Carroll County Growth Partnership, Carroll
Chamber & Development Council of Crawford County, Denison
Commercial Savings Bank, Carroll
Community State Bank, Paton
Coon Rapids Municipal Utilities, Coon Rapids
Core-Mark DBA Farner-Bocken, Carroll
Corn Belt Telephone, Wall Lake
Crawford County Memorial Hospital, Denison
Denison Municipal Utilities, Denison
Drees Company, Carroll
Ed M Feld Equipment Company, Carroll
Exchange State Bank, Exira
Farmers State Bank, Lake View
Farmers State Bank, Yale
Game One, Carroll
Greene County Development Corporation, Jefferson
Guthrie County State Bank, Guthrie Center
Iowa Savings Bank, Carroll
Iowa Trust & Savings Bank, Panora
JEO Consulting Group, Carroll
Marne & Elk Horn Telephone Company, Elk Horn
New Way, Scranton
Panora Telecommunications, Panora
Principal Financial/Matt Ramaekers, Carroll
Saint Anthony Regional Hospital, Carroll
Snyder & Associates, Atlantic
Sundquist Engineering, Denison
Templeton Savings Bank, Templeton
Templeton Telephone Company, Templeton
Veenstra & Kimm, West Des Moines
Wall Lake Lumber, Wall Lake
Westside State Bank, Westside
Western Iowa Networks, Breda